Jeff Goley's voting record demonstrates why he is desperate to hide it and attack his opponent. He voted for ALL taxes in the current budget. Because of his POOR RECORD ON FISCAL ISSUES, his rating from the NHLA was a solid "D". Once again he has sent voters another misleading flyer.
Goley's pro-tax voting record includes:
– Just last week, Jeff Goley voted AGAINST a Constitutional Amendment that would have prohibited more broad based taxes in New Hampshire (CACR 26, 2010). He also voted for over 40 new taxes and fees in the disastrous state budget (HB2, 2009).
– Jeff Goley SUPPORTED Jeanne Shaheen's 2.5% sales tax that would have devastated New Hampshire's small businesses. He voted AGAINST killing this tax (HB 767, 2001).
– Jeff Goley voted NO on killing an income tax (HB 124, 1999) and voted AGAINST a Constitutional Amendment that would have prohibited an income tax (CACR 13, 2005).
– Jeff Goley is an unrepentant supporter of the job-killing LLC Income Tax. He voted FOR it as part of the Democrats' disastrous budget and refuses to support its repeal (HB 2, 2009)
[Click for larger image]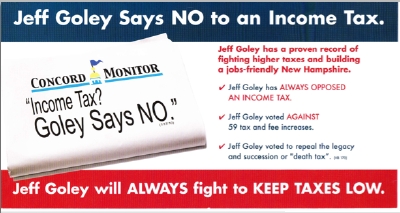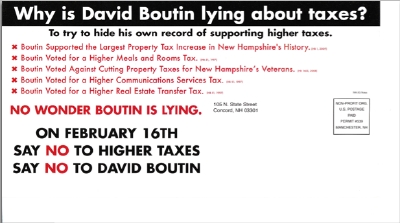 As your statewide taxpayer group, we strive to keep you informed about out of control tax increases and the players involved in creating them.
In what has to be a stunning contradiction from the NHDP, a recent mailer we obtained suggests that their Senate 16 candidate Jeff Goley is now going to help businesses reform the LLC tax, the very tax he himself voted FOR and helped CREATE. Does the NHDP think that people will have such short memories that they would fall for this kind of statement?
State Representative and Senate candidate Jeff Goley voted to transfer and impose costs to cities and towns, increasing the property taxes in District 16 residents. Goley voted against two bills that would have restored rooms and meals revenues and returned $25 million in revenue sharing that has been withheld from municipalities in the Democrats' irresponsible state budget.
Goley voted against HB 1128, a Republican sponsored bill that restores rooms and meals revenues to cities and towns. Despite Mr. Goley's opposition, the bill passed the House by a vote of 189-169.
Goley also voted against HB 1274, a bill that would have controlled property tax rates and restored $25 million in revenue sharing to municipalities for fiscal years 2010 and 2011.
In 2009 alone, Representative Jeff Goley has voted for a new capital gains tax, a new estate tax, as well as increases in the gas tax, rooms and meals tax, tobacco tax, gambling taxes, and car and boat registrations fees. Mr. Goley also voted for the so called LLC Tax, an income tax levied on small business owners – implemented without the courtesy of a public hearing. In the past Mr. Goley has voted for the statewide property tax and against killing a general sales tax.
To sum up, he voted in the NH House last week against returning to the old revenue sharing rule, and against prohibiting a lobbyist from serving on a public agency or public body where the lobbyist gains from the activity of the public agency or body. He also voted to kill a rule that would require a reduced spending alternative to the biennial budget. That's less money for towns (keep it in Concord), no reduced spending alternative budgets, and give lobbyists advantages. (HB 1274, HB 1643, HB 1621)
Here is the shocking mailer, Side ONE and Side TWO, sent by the NH Democrat Party…which states "As your next State Senator, I will invest in small businesses and lead the fight to reform the LLC tax to help our economy grow." Really?