By CNHT | December 7, 2016
Thanks to the officials in Hooksett for their alertness in the case of Michael Lasean Lewis who voted in Hooksett, NH as a same-day voter on 11/08/2016.
Apparently police were made aware that Lewis was rummaging through cars in the parking lot, and upon questioning him discovered he did not have a valid driver's license. And from there, it gets complicated, as CNHT has uncovered more details on Lewis.
Michael Lasean Lewis, Hooksett, NH same-day voter 11/08/2016 was the name given to Hooksett election officials of same-day voter registrant on November 8, 2016 at 7:00 PM, just prior to the closing of the polls.
His Date of birth: 05/14/1973
He was arrested at 7:10 PM that evening by Hooksett Police for driving without a valid license RSA 263:1.
At that time he gave the Hooksett Police his legal address/domicile as:
1907 NW 38 St. Apt. #240D Miami Fl. 33142
The State of NH COMPLAINT # is : 4472016CR1780
He was driving a 2015 Mitzubishi bearing Massachusetts plate # 3VP943.
Arresting Officer: Paul Mueller.
Michael Lasean Lewis had just registered same-day and voted in Hooksett.
According to his 11/08/16 BAIL PRE-RELEASE QUESTIONAIRE which he signed both times as (L) Michael Lewis, under RESIDENCE and FAMILY:
His address/domicile is: 800 Washington Ave. Miami Fl. (no zip code given)
The birth date is still 05/14/1973
His phone # is 404-316-6792
According to his BOND in CRIMINAL CASE document of 11/08/2016 at 10:18 PM
His address is 800 Washington Ave. Fla. (no zip code given)
It was signed (L) Michael Lewis.
He was released on $1,000 PR
Trial date: 12/27/2016 at 8:15 6th Circuit Court Hooksett, NH
Background of claimed residences and phone numbers of Michael Lasean Lewis
Original address given to Hooksett Police on arrest complaint belongs to:
Salvation Army
1907 NW 38th St
Miami, FL 33142
305-637-6700
305-373-7431 Fax
Phone number given Hooksett Police on COMPLAINT belongs to :
Marlos McDuffie
Male, Age 84, Born in November 1932
Male, Age 51, Born in 1965
1148 Cahaba Dr. SW, Atlanta, GA 30311
That address goes to:
http://www.spokeo.com/GA/Atlanta/1148-Cahaba-Dr-SW
There are 12 current residents of this one bath two bedroom single family home, according to SPOKEO. Two of which are the above mentioned individuals Marlos McDuffie.
The 800 Washington Ave. Miami, Fla. Address Lewis claims, on his bail form as his residence, is all probability:
Blackstone Apartments
800 Washington Ave,
Miami Beach, FL 33139
(305) 534-4489
This is a 131 Unit apartment complex with at least 500 residents. Since Lewis gave no Unit # is as good as no address.
Question:
Who will show up for the "driving without a valid license" hearing on Dec. 27, 2016 at the Hooksett District Court?
Will it be the same-day registered New Hampshire voter, Michael Lasean Lewis or L. Michael Lewis?
No one knows for sure except that because NH has same-day voting his vote counted as much as yours.
Topics: Vote Fraud | Comments Off
By CNHT | December 5, 2016
Updated from 2015
Thursday, five Ukrainian visitors traveling to NH through The World Affairs Council spent an hour with CNHT at our office in Concord. The five, along with two interpreters were in NH to learn about grassroots techniques for uncovering municipal corruption. They are all detectives in their home country.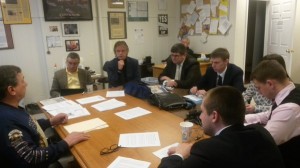 CNHT has had guests from South Korea and The Philippines in association this World Affairs Council program meet with NH activists who wanted to learn about the Right to Know Law and efforts to combat municipal crime.
One of the most popular issues we cover is the Windsor, NH scandal where some friends and relatives of the elected officials in this tiny town were allowed to avoid paying property taxes for decades as the State of NH officials in charge turned a blind eye.
Later that day the group talked with representatives of the NH State Police and will meet with the NH Judicial Committee and people from the NH AG's Office.
CNHT Chair Ed Naile presented each Ukrainian visitor with a copy of the NH State Constitution, some documentation of our grassroots efforts, plus some NH maple sugar candy.
For more information click on World Affairs Council
Update: CNHT received this email about the Ukrainian trip:
"By the same token, our discussions about watchdog activists and whistleblowers varied from somewhat general and abstract – like those at the U.S. Department of Labor or at the Public Citizen in Washington, D.C.– to bright and specific case studies like the briefing with Ed Naile of the Coalition for (sic) New Hampshire Taxpayers. In their remarks, the visitors emphatically praised Ed and other NGO leaders whom they met – saying that those were role models for civil society activists in Ukraine."
Topics: Vote Fraud, Wall of Fame | Comments Off
By CNHT | November 7, 2016
All we need in New Hampshire and the United States is a few brave people to come forward and document voter fraud when they see it, like this young lady did.
This case in Broward County, Florida, is a prime example of what goes on in certain parts of our country when people motivated by power and greed attempt to impose their will on the rest of us.
The next step is to have these people investigated and prosecuted by the government officials tasked with that duty. That is the hardest part.
Often you hear prosecutors don't like to deal with voter fraud and here is why. A real investigation will often expose more than just one person acting alone.
Take for instance the case of the vote thief Carl Robert Gibson who CNHT is tracking since his arrest in May of 2015 here in NH.
Carl Robert Gibson was registered in four state we know of and was here in NH in 2012 as well as 2015 conducting political dirty tricks and stealing NH votes. A real criminal investigation would expose his helpers in NH and who from out of state paid him to conduct political sabotage on NH candidates.
The Donald Trump campaign has brought voter fraud and rigged elections to a noticeable part of the national news. This has not been the case in past elections. I believe there is no turning back and American voters are ready to seen clean elections as part of every political campaign from local to national.
Be part of the end of voter fraud in NH. Keep your eyes open. If you suspect non-residents are voting in NH from a business address or the safe house provided to campaign workers document what you can.
Write down license numbers, addresses, names, time, location, anything you can. And stay quiet. Don't let them know you are watching.
Let CNHT know by email or a phone call 471-0138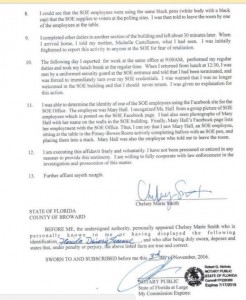 .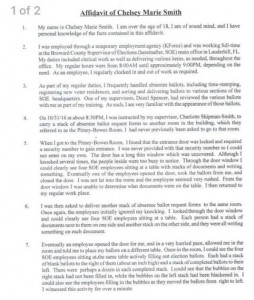 Topics: Vote Fraud | Comments Off
« Previous Entries