Hi Fellow Taxpayer,
Candidates for local government and school offices are out every weekend at the Newton Transfer Station and at the Carriage Towne Plaza. The ones who align with the NKTA mission are there, steadily…if you get a chance, stop by. Join them, just say hi or give a thumbs up. SEE COLLAGE ATTACHED!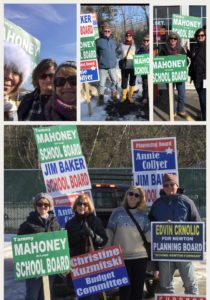 Last weekend many were there all day Saturday and Sunday.
We got to speak with local voters, answering questions, and building support for the key issues. We have a GREAT story to tell.
This is our 6th year…6 years!
We have been able to KEEP TAXES BARELY RISING, with an increase of 0.6% over the past 5 years for the school portion.
At the same time, our CONCURRENT GOAL OF EXCELLENCE IN EDUCATION IS SHOWING IMPROVEMENTS.
There is MORE TO BE DONE. COSTS (per pupil) are still higher than nearby districts. We need to make sure our children get BETTER LEARNING OUTCOMES.
Please spread the word to RE-ELECT JIM BAKER AND TAMMY MAHONEY to the School Board. ELECT CHRISTINE KUZMITSKI to the Budget Committee.
AS ALWAYS, THANK YOU FOR YOUR SUPPORT!