by Ed Naile
The Public Interest Legal Foundation, representing the American Civil Rights Union, has opened up a can of voter fraud worms in the City of Philadelphia, specifically convicted felon voters voting illegally.
Philly is known for letting uniformed Black Panthers patrol election stations and zero Republican votes cast in many wards in the city. You can also check out the number of people who are eligible to vote in the City with the number of recorded voters for an eye opener. But that is a different story.
J. Christian Adams of PILF, and his people, have uncovered the scam election officials in Philly are running to pump up the Democrat numbers, thereby cancelling out the legit votes in the rest of the State.
I like to call this "voter suppression for real." The proof is simple to document. For every illegal vote a Philadelphia election official allows to be cast, another voter in Pa. loses his vote. Pretty simple. Even an idiot election official could do it.
Oh wait! Here is a familiar name: (click on graphic for larger view)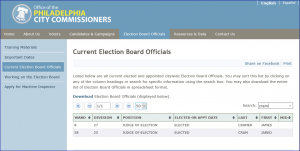 Remember interstate vote thief, Jared Steven Cram, who used his mommy's house in Wilton to steal votes in New Hampshire in 2008 and 2012? He is the guy who NH election officials say didn't vote in Wilton in 2008 even though his name was on the Secret Statewide Database as voting in 2008 and 2012?
Funny how those are the two years the politically active Cram didn't vote in Pa. elections where he worked on campaigns.
Stands to reason Cram is an election official in Philly when he isn't up here campaigning against NH candidates.
CNHT has been keeping tabs on Cram and lots of other dirt ball vote thieves.
Stay tuned for a new interstate Florida/NH absentee vote thief expose.
Check out J. Christian Adams's work on protecting your vote at his web site:
Public Interest Legal Foundation