Last night (4-21-2018) Pam Brown and Annie Collyer presented the NKTA $500 Student Success scholarship to an exceptional graduate, Ms. Elizabeth McLellan!
Elizabeth is the daughter of Krista McLellan and the late Scott McLellan of Kingston. She has achieved an outstanding academic record at Sanborn, and is a member of the National Honor Society. Elizabeth will attend Roger Williams University to major in Accounting – with the eventual goal to become a Certified Public Accountant, with a Master's degree in Forensic Accounting.
Ms. McLellan has given countless hours to her community through volunteer work with the Becca's Closet, Sonshine Soup Kitchen, Cancer Society fund-raising, and many other organizations. She has participated in the Explorer Program of the Kingston Fire Department, where her late father served as a Lieutenant. Elizabeth hopes to organize a scholarship in her father's name to assist Sanborn graduates majoring in a performing or graphic arts – past-times her father always greatly enjoyed. Congratulations, Elizabeth!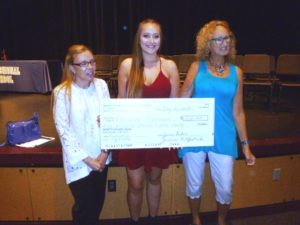 Money raised for the NKTA scholarship is separate from NKTA dues and donations. If you'd like to contribute, please send you check to NKTA, P.O. Box 40, Newton, NH (or use the link below). Please be sure to mark the check, for scholarship fund. Thank you to all who have given so generously in the past two years. We hope to be able to offer the scholarship again next year and very much appreciate any help you provide.
To join NKTA please click on this link: http://nkta.vpweb.com/contact-and-membership or visit http://nkta.vpweb.com/ and select the "contact and membership" tab at the top of the page.