« Presidential Election Commission Coming to NH | Home | At Voter Integrity Summit East Meets West »
By CNHT | August 27, 2017
On August 30, CNHT's Chairman Ed Naile will be a featured presenter at an "Election Integrity Summit" in San Francisco, CA.
North Carolina is also a member of the Election Integrity Alliance, and will also be a presenter. We will report back with videos or transcripts.
Click for larger view…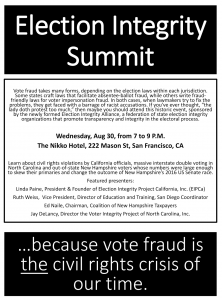 Topics: Vote Fraud | Comments Off
Comments are closed.