« What Happens When a Selectwoman Challenges the Town of Piermont? – Part 5 | Home | CNHT Joins Interstate Crosscheck Program »
By CNHT | May 25, 2017
On Tuesday May 23 fro 3-4:00 PM, Chairman Ed Naile met at our Concord office with six representatives from various organizations in Venezuela about transparency in NH municipal government.
From 4-5:00 PM he met with six representatives from various countries in Africa.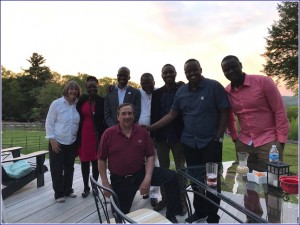 [click for larger view]
The visitors from Africa were from non-profits, media and one was a mayor. This meeting was also about government transparency. Ed and his wife hosted the African visitors at their home for a BBQ which was very enjoyable.
The meetings were set up by The World Affairs Council, NH Chapter.
The visitors from Africa left the next day for Chicago. The Venezuelans set out for Bell, California, a city which was almost bankrupted by municipal graft.
CNHT has become a very popular stop in NH and America for visitors wanting to learn about municipal government.
Topics: Right to Know, Town Government | Comments Off
Comments are closed.