by Ed Naile
436 Walnut St. Manchester is the place several transient campaign workers flop at night. The Coalition of NH Taxpayers has identified two so far, Lavanya Prabhakar and Vedika Gopal.
Neither has contacted us to prove their domicile status. I will gladly retract any incorrect public document or add more info I have.
Several vote thieves have tried refuting my observations – and it has not worked out well for them. And so far, none responded to my attempts to call them on live talk radio.
So here comes number three – Katherine E. McMurray of 99 Mayfair Dr, Westwood Ma. I believe this Kate McMurray of the same Ma. address is our Kate, the EMT.
Kate McMurray
Address 99 Mayfair Dr, Westwood, MA, 02090
License Type Emt Basic
License Number E0913489
License Status Active
License State MA
Job Functions EMT BASIC
Expiration Date Apr 1, 2021
Issue Date Aug 27, 2018
Good for Kate to be involved in her local Massachusetts community by becoming an EMT. Much applause.
Then we have Kate McMurray's LinkedIn page:
Highlights:
Campaign Manager at Shannon Chandley for State Senate
New Hampshire Democratic Party
Feb 2020 – Present 9 months
Amherst, New Hampshire
Joyce Craig for Manchester
Field Organizer
Jul 2019 – Nov 2019 5 months
Manchester, New Hampshire
– First wave field organizer for Joyce Craig's mayoral re-election campaign. Began with the whole city, ended with Wards 1, 3-5.
– Secured 57% of vote in both the primary and the general
– Organized 175 volunteers to knock 22,000 doors and make 14,000 dials
– Met weekly call/canvass goals and made 14,000 personal dials
– Lead primary and general GOTV efforts
UMass Democrats
2 years 9 months
Political Director
Nov 2018 – May 20197 months
Amherst, Massachusetts
– An active member for several years and recently promoted to political director.
– Contacts and connects with local and national campaigns and politicians, conducts weekly meetings, participates in campaign efforts in the 2016 and 2018 elections such as phone banking and canvassing.
Secretary
Sep 2017 – Nov 2018 1 year 3 months
Amherst, Massachusetts
Here is what I have from my Ma. source regarding Kate's Massachusetts voter file. I took out her birth date:
Name: MCMURRAY, KATE E. 99 MAYFAIR DR, WESTWOOD, MA, 02090
MCMURRAY, KATE 30 GATEHOUSE RD AMHERST APT 306 01002 D A
ID: 12MKE1596000 Party: D
Act/Inact: A
Gender: F DOB XXXXX Reg. Date: 03-AUG-18
The Westwood Town Clerk is too busy to answer a call for registration info, so I have nothing new as of last week.
Then there is the car.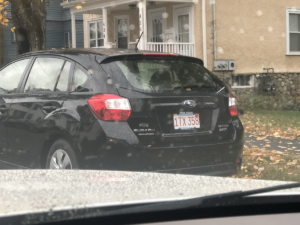 Heads up to Kate. This is one of the three out-of-state cars in front of 436 Walnut St. If this is your Subaru, you better make a trip back home and get that car paid up. The plates look like they expired August 2020.
Remember Carl Robert Gibson, Kentucky, Wisconsin, NH vote thief?
I supplied information I had to Concord PD so they could tow and impound his two-year expired Ct. plates attached to his black Honda.
And if you voted back home in Westwood, Ma. by absentee already, Ill be checking on that.