« Documenting Voter Fraud | Home | CNHT Investigates Same-Day Voter »
By CNHT | December 5, 2016
Updated from 2015
Thursday, five Ukrainian visitors traveling to NH through The World Affairs Council spent an hour with CNHT at our office in Concord. The five, along with two interpreters were in NH to learn about grassroots techniques for uncovering municipal corruption. They are all detectives in their home country.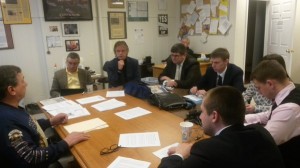 CNHT has had guests from South Korea and The Philippines in association this World Affairs Council program meet with NH activists who wanted to learn about the Right to Know Law and efforts to combat municipal crime.
One of the most popular issues we cover is the Windsor, NH scandal where some friends and relatives of the elected officials in this tiny town were allowed to avoid paying property taxes for decades as the State of NH officials in charge turned a blind eye.
Later that day the group talked with representatives of the NH State Police and will meet with the NH Judicial Committee and people from the NH AG's Office.
CNHT Chair Ed Naile presented each Ukrainian visitor with a copy of the NH State Constitution, some documentation of our grassroots efforts, plus some NH maple sugar candy.
For more information click on World Affairs Council
Update: CNHT received this email about the Ukrainian trip:
"By the same token, our discussions about watchdog activists and whistleblowers varied from somewhat general and abstract – like those at the U.S. Department of Labor or at the Public Citizen in Washington, D.C.– to bright and specific case studies like the briefing with Ed Naile of the Coalition for (sic) New Hampshire Taxpayers. In their remarks, the visitors emphatically praised Ed and other NGO leaders whom they met – saying that those were role models for civil society activists in Ukraine."
Topics: Vote Fraud, Wall of Fame | Comments Off
Comments are closed.