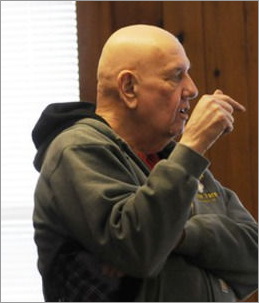 ATKINSON – Two residents who claim police Chief Philip V. Consentino bullied people into removing their names from a warrant article petition are preparing to sue the chief and the board of selectmen.
In a notice sent to the town by attorney Charles Douglas, residents Leon Artus and Gary Brownfield claim Consentino, 68, harassed and intimidated residents into removing their names from a petition that would have changed the chief position from part time to full time and raised the job's minimum qualifications.
Artus and Brownfield collected signatures for the petition.
During Saturday's deliberative session, voters overwhelmingly supported an amendment to the warrant article that restored Consentino's hold on the position.
Had the warrant article passed in its original form, the town would have been required to hire a chief with at least a bachelor's degree in criminal justice and 15 years of experience in law enforcement.
Consentino, who has been chief for 40 years, said neither he nor his second-in-command could meet those requirements and that he was specifically targeted by people trying to get rid of him.
Douglas, however, claims Consentino is responsible for a pattern of civil rights violations made even more serious by the chief's position in town.
"He's got a gun, a badge, a cruiser and a bunch of armed men working for him called the police department," Douglas said. "It's not like he's the town librarian."
Douglas said his clients are seeking monetary damages and an injunction against any further intimidation.
He said he planned to formally file the lawsuit by the end of this week. The lawsuit will also name the current board of selectmen and former selectmen Jack Sapia and Francis Polito, Douglas said.
Neither Artus nor Brownfield would comment on the lawsuit.
Sumner Kalman, the town's attorney, did not return messages yesterday.
###